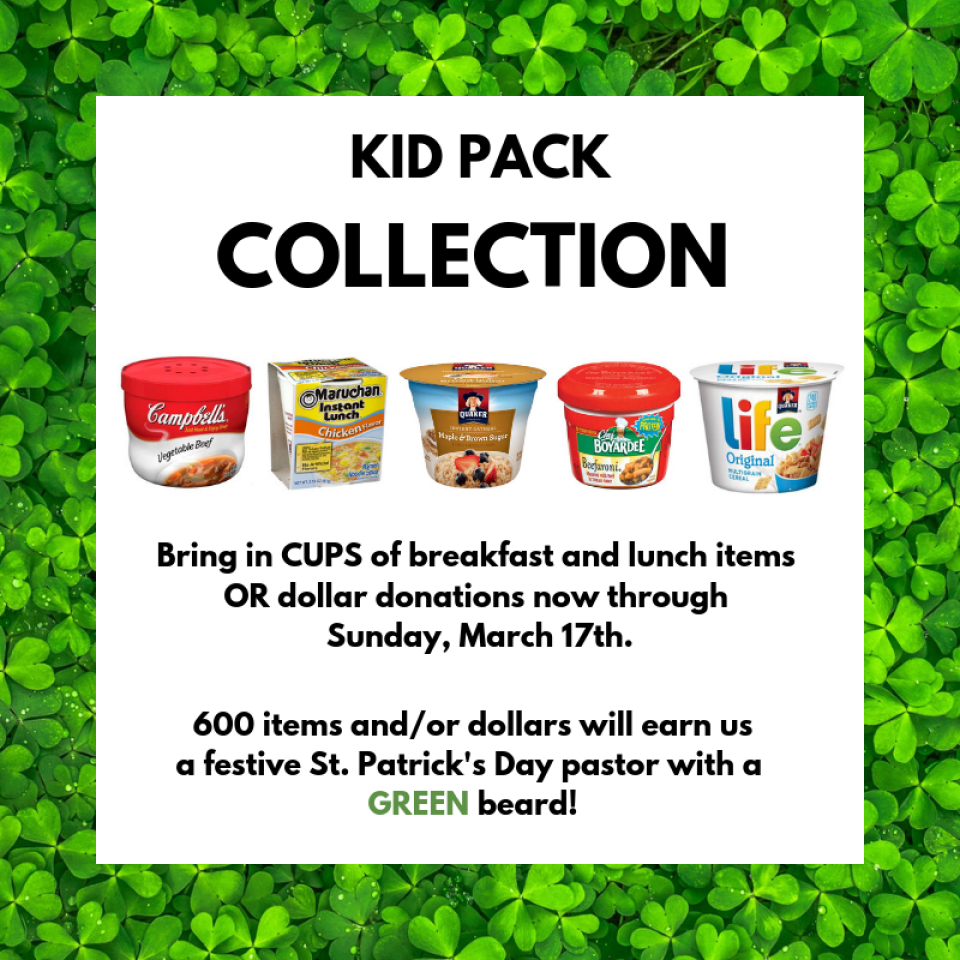 Every Sunday from 02/24/2019 to 03/17/2019
IN SUNDAY SCHOOL:
Students will learn more about basic nutrition, volunteering for the White Bear Lake Emergency Food Shelf, how the organization impacts our community, and how family budgets are formed.
AND we'll have fun with some cool incentives (prizes) every week as we get closer to our goal of collecting 600 CUPS of food and/or dollars.
TO DONATE:
Bring in items or monetary donations to your student's Sunday or Wednesday night group. OR place gifts in the green box on the Welcome Table, located in our church's lobby.
Online: Click this link, select the fund "Special" and enter FOOD SHELF in the memo line.
From the WBL Food Shelf:
WHAT GOES IN A KID PACK?
Thank you for providing KID Packs to students in White Bear Area Schools who might otherwise go hungry over the weekend when food is scarce. Each week, 400 KID Packs are given out to local students.
KID Packs are composed of 2 breakfast, 2 lunch, and 4 snack items. But with so food many choices, how do you know what counts as what? Here's a handy guide!
*All items must include a list of ingredients and allergen information.
BREAKFAST (x2):
Single Serve Cereal Bowls DO NOT INCLUDE:
Single Serve Oatmeal Packs Pop Tarts
Last Resort? Granola Bars
LUNCH/ENTRÉE (x2):
Tuna or Chicken Salad Kits
Hummus Kits
Single Serve Macaroni & Cheese Bowls
Pop Top Pasta (e.g. Chef Boyardee)
Cup of Noodles/Soup Bowls
Ramen Noodles
Last Resort? Full Size Macaroni & Cheese (x1)