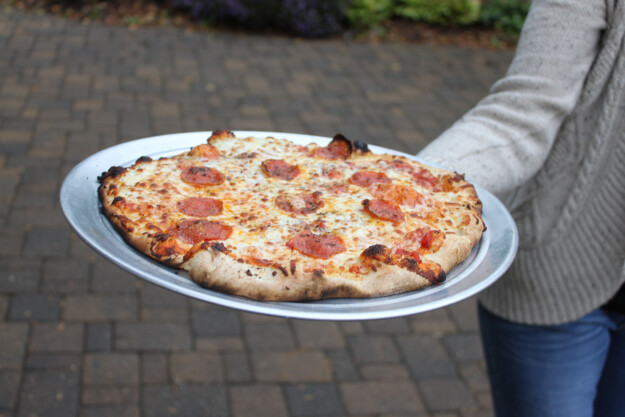 photos on this page are courtesy of Mary Rollinger
The goal of the pizza fundraiser program is to help support organizations in our community with their fundraising efforts. We are inviting the White Bear Lake Area School District and Mahtomedi Area School District to consider using our unique wood-fired bread ovens and facilities to host their fundraising events.

WBL area or Mahtomedi area school district organizations can use our facilities, including our large fellowship hall or our north lawn and patio, for a pizza fundraiser. We have organized and implemented many large pizza events over the past 10 years and have the process and costs mastered. We'll use our expertise to guide students, parents, and educators to prepare and host a fundraiser at WBLUMC. We can accommodate up to 200 guests for an indoor event and 250 guests for an outdoor event.


Benefits
Families from school are brought together and meet each other at this event
Students and parents, who volunteer to work, have fun making and baking pizzas
Low ingredient and overhead costs provide a high profit margin to help support fundraisers
Secondary fundraising can also be hosted at the event
- Silent auction
- Live auction
- Door prizes
– Sell tickets for drawing of items at the event
- Sell candy bars or other conventional fundraiser items
Entertainment, provided by students, can be accommodated using our sound system and piano
How Our Fundraiser Model Works
A leader from the school will work directly with our organizer, following these steps and their assigned responsibilities.
The school leader contacts to secure a date. See below for current open dates. A minimum of 100 attendees is required.
The school leader prepares and manages the invitation and collecting RSVPs or ticket sales to allow for confirmation of final attendance number.
The school leader sets event price and collects money.
WBLUMC presents a bill for expenses, which will include consumables only; use of the facilities will be gratis.
The school leader recruits volunteers to fill work assignments. Details will be provided by the church's pizza fundraiser coordinator.
Food and Beverages
A buffet-style meal will be offered with a variety of pizzas, served by the slice, along with salad and soda or water. Based on our experience and the confirmed number of attendees, the amount of food prepared will allow for all-you-care-to-eat pizza.
WBLUMC provides all food items except dessert. Parents can volunteer to bring desserts.
WBLUMC provides all paper products and ingredients for the buffet dinner.
Pizzas types will include cheese, veggie, sausage, pepperoni, mushroom, olive, and combinations of these items.
Caesar salad will be provided.
A single soda or bottle of water is provided.
Gluten-free crusts can be accommodated, working with the school coordinator to determine how many.
Financial Details
One of WBLUMC's community outreach objectives is to provide a unique fundraising venue to support the financial needs of school programs. Therefore, WBLUMC charges only for the direct cost associated for the meal items. Based on our history of pizza events as described here, the cost per person should be approximately $2.30, which could vary depending on current cost of ingredients and other factors. So, if the coordinator set the price at $10.00, the gross margin would be $7.70, or 77%. All costs are tabulated and shared with the school coordinator a few days after the event. A check can then be sent to the church to cover these items. More details will be shared with the school coordinator during the planning of an event.
Available Dates for Each School District in 2020
| | |
| --- | --- |
| WBL Area School District | Mahtomedia Area School District |
| March 21 - WBL Senior Band: Canceled. Will be rescheduled. | April 18 |
| May 2 | May 9 |
| September 19 | September 26 |
| October 10 | October 24 - Zephyr Performing Arts Foundation |
Feedback & Press
"Church Fires Up Brick Oven for Good of Community," White Bear Press, November 13, 2019.
"Our initial focus for the pizza fundraiser was to raise money for our students, but we found the event benefited us in an even greater way by bringing our band and choir communities together. Band and choir students worked together making the pizzas while parents and other students sat and talked at the tables between musical performances. These opportunities to get to know one another don't happen at our usual concerts so that was an unexpected plus to the evening."
Kelly Olsen, Co-President, Zephyr Performing Arts Foundation
"The WBLAS Choirs have had the opportunity to "raise dough" with this unique wood-fired pizza meal. The event not only earned over $1000 for our choirs, it was a community building day where families from our 6-12 choir program gathered to play games, commiserate, and celebrate music in our schools. This wasn't only a fundraiser; it was an event to build connections.
Wendy Suoja, WBLAHS Choir Director
Resources
The items below are samples, and the WBLUMC organizer can help your event leader develop similar items for your event.
Work Schedule | Sample Ticket | Sample Invitation | WBLAS Information Brochure | Mahtomedi Information Brochure
Next Steps
Ready to move forward? Choose one or two potential dates from the list above and contact to start the process.