A Call to True Life: Room for God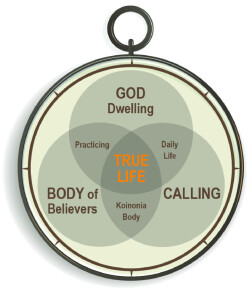 I continue to be drawn to what Henri Nouwen says in his book, Making All Things New.

Jesus . . . does not try to pull us away from, or say what we do is unimportant, or suggest that we withdraw from the struggles of the world. . . . Jesus . . . asks us to relocate the center of our attentions. . . . Jesus wants us to move from the "many things" to the "one necessary thing." . . . Jesus wants us to live in it, but be firmly rooted in the center of all things. . . . Jesus asks us to move our hearts to the center, where all other things fall into place.

The Sabbath, a day set aside for rest and worship, is central for A Call to True Life. Weekly worship is what we do as those who are a part of the BODY of Believers. Worship and rest help us connect with God's desire for our lives. The Sabbath is also needed for our own renewal. The room/space we create is, as Nouwen says: The furnace of transformation . . . without solitude we remain victims of our society and continue to be en-tangled in the illusions of the false self . . .
Above all God intended/intends that the Sabbath Day be a gift—a time for us to dwell in God's love and forgiveness, be encouraged by other believers and be renewed in our identity as Children of God.

— Pastor David