A Call to True Life: Whose Am I?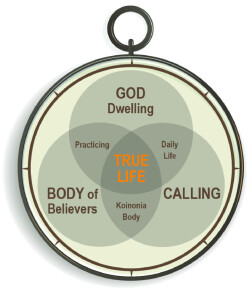 You see in the circle to the right the word "calling," which can also be described as identity. Perhaps "the" question of life is the question of identity—"Who am I?" I googled this question and found vastly different points of view on what creates a person's identity. I found the exercise to be ironically funny as the process assumes for the most part that identity is found from what others say and believe about you/me. Identity in this realm mostly centers then on what we do as human "doings."
I believe that true identity is intended to be much more about who we are in relationship with as human "beings." Who do we value and spend time with, "being" real with our thoughts and person? Who loves us because of and despite of who we really are?
The Calling that God wants you to hear and know and live with is one defined by love. You have been called by name and welcomed into the Body of Believers. Your calling and identity is as a Child of God. True Life is knowing Whose I Am.
— Pastor David