A Slice of the Sky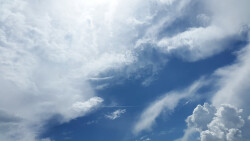 ". . . no eye has seen, no ear has heard, and no mind has imagined the things what God has prepared for those who love him." 1 Corinthians 2:9
You might have been an imaginative kid or an adult who hangs onto the capacity to dream by gazing flatly at the sky to imagine the billowy folds and the contoured curves of a cloud. It is here that you're able to conjure the soft silhouettes shaping peaceful sheep, soaring doves, or defending dragons. It may be that you're more science minded and are fascinated by the cloudy array of cloud types that dot the sky. If you were or are either, it is nonetheless because the breadth of imaginative dreaming is fashioned for all of us.
A. W. Tozer has a thought on the sacred gift of seeing God: "The value of the cleansed imagination in the sphere of religion lies in its power to perceive in natural things the shadows of things spiritual. . . . the ability to peer beyond the veil and gaze with astonished wonder upon the beauties and mysteries of things holy and eternal" [A. W. Tozer, "October 17: A Sacred Gift of Seeing," Mornings with Tozer: Daily Devotional Readings, comp. Gerald B. Smith. Chicago: Moody Publishers, 2008.].
"Things holy and eternal" are discovered like those clouds in more places than we might think to look. The poet Edna St. Vincent Millay envisioned these thoughts about her world: "The world stands out on either side / No wider than the heart is wide; / Above the world is stretched the sky,— / No higher than the soul is high" [Edna St. Vincent Millay, "Renascence," Selected Poems, ed. J. D. McClatchy. New York: Library of America, 2003.].
It is similar to the indelible, far-reaching wisdom words of Ephesians 3:18, "…how wide and long and high and deep is the love of Christ." Might we pause, sigh, and see how souls might take in a slice of the sky.
Easter has opened the sky hovering over this world even when we shut our eyes and clench our fists tightly. Those dark and contrastingly not-so-Good-Friday skies that met us a week ago with a cross strutting as a sword streaking the sky are no longer. The forty contemplative days of Lent have ceased. The torture of an embolden Jesus staring upward for his captor's forgiveness has set Him apart as a Savior—man who lived and died for a kingdom to come beginning now and for a holy way for us.
New life has come or, as faithful folks who know more words than I announce, Eastertide has now burst amidst fifty whole days to commemorate rolling stones, dashing the darkness, and claiming Easter all the way to Pentecost. Yep, fifty whole days to continue to grab a few jelly beans but much more significantly to grab our souls, to notice and celebrate the "mysteries of things holy and eternal."
Easter means disciples are walking open roads toward more understanding and breaking bread with a restored Jesus in the upper room. Humble utterances that could not possibly come to pass earlier come into their moment uniquely fashioned for the restoration of grieving souls. It is here in the upper room that we notice the slow work of restoration and understanding. "Were our hearts not burning?" we wonder.
Jesus enters into the immensity of this upper room not bound by the past but with ample room to touch and to be touched in the present. He appears not in perfect form but with his wounds apparent and open for all to see. He is here for everyone, no matter how imperfect. In these last days, Jesus shares ample extra helpings of what we imagine grace to resemble. He familiarly breaks the Passover bread and asks Thomas and others to capture the whole of Him. He not only asks Thomas and us to touch his wounds, but also invites the wayward Peter back with a personal fish fry. Significantly, Jesus announces He has come for peace.
I bet most of us would have liked to have been there as the conversation stilled, as the room became silent, as eyes met and the peace of Christ began to fill the air one morsel of bread at a time. At this specific meal, Jesus entered as an invited guest on the way to Emmaus and inverts who is guest and who is host. He purposefully hosts this holy meal with the intention of reuniting God's Sacredness with their and our past scruffy, imperfect humanity. It is now that the mist of regret seems to thin and meaning pours through time like wine and the scent of fresh bread.
A grace-filled peace, which resounds into this faraway century, comes to the all the children of God. Might we dream of ourselves and of others with Jesus? Dreaming about a slice of an open sky God hung for us is the dream of the Sacred whose love is wider, longer, and deeper than our imaginations.