Children's Ministries Friends 4/5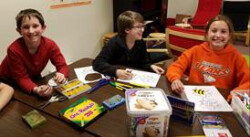 A little more than a year ago, I gave some serious thought to what I was seeing and hearing from our Children's Ministries' "recent grads," the 6th- and 7th-graders. Every fall, a few would hover by the children's rooms and look longingly at the glitter glue, tubs of frosting, and bingo prizes. I would point them to their middle school rooms and say a little prayer that they got used to the new structure. Some made the adjustment and some didn't.
It's a big transition. In Children's Ministries, we teach the stories while using hands-on activities to make it fun and stimulating. Silly is good, and we don't shy away from dressing up as "Beatrice the Bee" when we're talking about protecting Creation. We design each class to be a fast-paced learning environment. Few activities last longer than 10 minutes. Kids who attend regularly leave with a decent level of Bible-literacy and some awesome crafts.
For the most part, the structure works well for preschool–5th grade. One of the biggest morale boosts for me is when a parent or grandparent says, "We planned to sleep in this morning, but Gracie said she didn't want to miss the fun of Sunday School." Kids love to show off their Bible knowledge. Being fluent in their faith tradition makes them unique from many of their peers at school and they are proud. That motivates me to keep going.
At the same time, I wondered what I should do to help prepare my late-elementary students for the next level. When I network with other children's workers, I don't hear much about our role in preparing kids for the jump to youth group. We're immersed in the coolest art supplies, the newest Bible storybooks (check out the new Frolic bibles with Middle Eastern skin tones and gender-neutral references to God!), the latest tools for faith formation at home, and the safest nursery equipment. We're a group that loves the details.
Youth group, on the other hand, has its own vibe. Students are expected to engage in more discussion and encouraged to bring more of their personal stories to the group. This requires a level of trust. This age also tackles some of the "deeper tracks" of the Bible; stories with themes that weren't developmentally appropriate in the earlier grades. As a parent, I consider the most crucial aspect of youth group to be the safe, consistent, welcoming space. Every student endures the bumpy patches of middle school life; it's crucial to have a group where people know who you really are instead of defining you by your latest mistake.
Putting all these ideas together, this past fall, we offered a new Wednesday night small group with the following goals: group bonding, yearlong transition to a typical youth structure, deeper discussions, and creative prayer practices. It was designed for 4th- and 5th-grade students and named Friends 4/5.
It went better than I could have hoped for! We had all the ingredients for success. Attendance was consistent; families chose to schedule activities around Wednesday night whenever possible. Kids came each week with a good attitude. Our curriculum helped to make the Bible discussion age-appropriate and real-world relevant. We got to know each other well and we grew in our ability to apply scripture to today's world. I am confident the participating 5th-graders are ready for youth group. Watching the kids grow as individuals and as a group was the highlight of my year.
It was a fun, rewarding experiment. Thank you for continued support.
Joan Hartman
Director of Children's Ministries