Deep in Your Bones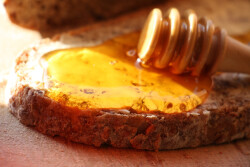 Planted deep in your bones there is a human wondering of what matters. A hope of purpose rattles, tugging you toward the possibility of what might be. In actuality, to carry something "deep in your bones" is more like an all-knowing hunch, balanced with a sure sense of certainty but no proof. There is a certainty without proof breathing in the homespun aroma of a meal and an anticipated understanding of a grand feast to come long before a morsel reaches our lips.
That is a simple one; however there are other more significant insights we carry with deep certainty encompassed in allowing ourselves to love for the whole of someone with some imperfection and giving away pure forgiveness even when…
WBLUMC will ponder several scriptures this summer that beckon us to live into and envision that the very ways we live matter. These familiar stories enlarge what we sense deep in our bones. However, more extravagantly, the simple ingredients of manna, mint, honey, salt and mustard additionally narrate an understanding of God's purpose and character. Our human-based assumption may be, "That's a really great idea to focus on scripture," because we think it will bring clarity or calm. But even more so, these scriptures echo the Sacred's idea of our purpose.
Let your mind run freely to be empowered this summer with the following poetic stories of faith.
You are the salt of the earth, there's a Shelter of God or sustainment in the delivery of daily bread or manna, and the kingdom of God in the form of a mustard seed has the possibility to mature into an immense bush where a soul might nest. Last, but not least, the abundant possibility of an exodus might just lead to a "land of milk and honey" [Matthew 5:13, Exodus 16:16, Matthew 13:31-32, Exodus 3:8, 3:17]. These are rich, living, word pictures, both simple and complex, that describe our Creator's calling, rather than a God of indifference. These soulful texts exemplify a mindset toward a God with us or simply, the definitive word, Emmanuel, that we muster from Christmas not so long ago. If our Creator is this force, Spirit, Jesus of eternal love and compassion, then that endearing God might want more of this force within us and from us.
The open pursuit of individuals who practice "the way" begins seeding and seasoning the earth with good, while allowing not just our physical location, but also our ideals to move to more abundant places. This is the exodus to a restored life.
Marcus Borg discussed this thought in his in-depth career and referred to it as the historical-metaphorical approach. "A metaphorical approach to biblical and Christian language emphasizes meaning, not literal factuality. In this sense the purpose is metaphorical, even if they sometimes contain historical memory" [Marcus Borg, Speaking Christian: Why Christian Words Have Lost Their Meaning and Power—And How They Can Be Restored. New York: Harper Collins Publishing, 2011. p. 30]. This allows a scriptural story to leap off the page in both ways. Borg commented, "Why did ancient Israel preserve and tell the stories and traditions they did? Because they saw them as having a more than literal significance that continued into their present" [Borg, p. 30].
The late theologian and author Eugene Peterson wrote, "The arrival of Jesus signaled the beginning of a new era. God entered history in a personal way, and made it unmistakably clear he is on our side . . ." [Eugene H. Peterson, The Message: The Bible in Contemporary Language. Carol Stream, IL: NavPress Publishing Group, 2005. p. 1327]. Equally important, Peterson wrote, "The stories show clearly we are never outsiders or spectators to anything in 'heaven and earth.' God doesn't work impersonally from space; he works with us where we are, as he finds us. No matter what we do, whether good or bad, we continue to be a part of everything that God is doing. Nobody can drop out—there's no place to drop out to. So we may as well get started and take our place in the story—at the beginning" [Peterson, p. 18].
One story that comes to mind is John the Baptist. John is a unique, bristly character, and he might be hard to compare to characters you've run into. John loves God. He's one of a kind, dwells in a desert, wears camel hair, and is sustained by honey and locusts. John finds his voice in proclaiming not himself but the One, who he would baptize and always proclaim—Jesus. John pleas for the "kingdom of God to come near" while baptizing folks, dunking them one by one into the Jordan River. I suppose there is a deeply known truth in rising and passing into the world anew with deep fresh breaths. Baptisms are a time for the Sacred to drip, surround, and quench us in what is named living water in "bible words." You can read the whole of the story in Luke, but there's a historical detail that marked and projected John's life far before this fulfillment.
John's purpose was claimed and known in a sure sort of way by the Sacred and his parents, Elizabeth and Zachariah, years earlier at his naming. We read there was a deep reverence in the Judean hills, and it was all that folks talked about. This was written, "Everyone who heard about it took it to heart, wondering, 'What will become of this child? Clearly, God has his hand in this'" [Luke 1:65-66].
I wonder sometimes if the proverb, "Pleasant words are like honey, sweet to the soul and healing to the bones" [Proverbs 16:24], was inspired by a risky life exemplifying that we might be changed by living out faith. Might we grasp at the beginnings that seed our days and might we wander into exodus passages that for today only begin—their endings unknown. For today, we hold these stories deep in our bones.