Elephants in the Room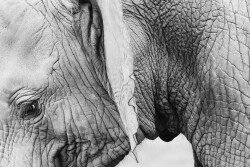 A lively and delightful children's guessing game for describing an object or an animal goes like this: You might say, "It feels like hairy wrinkles, has an exceptionally long nose, eats many hours of the day, is larger than your Dad or Mom," and the children exclaim, "Elephant!" The exuberance of a child is an unlikely comparison to the expression "the elephant in the room." These elephants share no commonality with delight and are not so easily called out. They are embedded with secrecy, judgment, and hurt. They remain planted, perhaps for generations, like silent, solidly piled boulders stuck in an empty field for eons, unable to budge until we give motion to the taboos surrounding them.
WBLUMC is in the midst of offering a series of thoughtful sermons entitled, "Elephants in the Room." We believe that with Spirit and humility we can respectfully nudge these lumbering "elephants" to a more manageable, kinder, more compassionate size. Perhaps there is potential for the church to be a safe place to listen, to share respect for all people, and to discern how God is present and active always, even with the uncomfortable issues we may want to ignore. The sermons offered address these social "elephants" that loom large: Debt, Addiction, Violence, Nationalism, Death, and Pornography.
Numerous scriptures refer to the family of Christ as moving, passionate, and living. The church tussled with all sorts of issues in Acts and 1 Peter and along the Exodus journey. Perhaps the church today is no different. We continue to wrestle with life. Instead of a finished faith, we have a living faith and a world that continues to challenge and invite us to live and breathe into it our Creator's vitality and deep concern for the least of these.
If elephants in the room loom like massive mounds heaped across our landscape, might we instead become a living stone—the cornerstone—that Jesus signified. "You are coming to Christ, who is the living cornerstone of God's temple. He was rejected by people, but he was chosen by God for great honor. And you are living stones that God is building into a spiritual temple. What's more, you are his holy priests" [Living Translation Bible, 1 Peter 2: 4-5]. Perhaps a genesis to budging the elephants out is becoming stronger lovers of humankind?
Writer John Pavlovitz shares, "It doesn't matter how much religious stuff we get right in this life. If we haven't really loved people well, we've gotten the rightest thing wrong" [Pavlovitz, p. 49]. He later goes on to write, "It would be easy (and correct) to say that Jesus' main idea was Love—but specifically what does that look like? When the rubber hits the road, how are we to live? Jesus' first recorded public sermon is a bold and unflinching declaration of who he is and what he will be about. [See Luke 4:16-18.] Reading the words of a forebear prophet, he tells the people gathered that his arrival is good news for the low of the world . . . He will go on to echo this in Matthew 25, speaking of his solidarity with those overlooked 'least of these' and promising our faith is measured in how we embrace or reject them. In these words, Jesus tells us that justice and his presence will always be tethered together. One will be inextricably tied to the other" [Pavlovitz, pp. 56–57].
Two tender stories from two different sources illustrate the magnification of our ability to mark this world, regardless of our sense of power. In the first story, Kent Nerburn, who writes in support of the Native American experience, shares a meaningful friendship with Dan, a savvy, aging elder, Dan explains that words can shape our perceptions: Stony words can tear away, and encouraging words can foster bridges and arrange new landscapes. Dan profoundly describes his highest hope for words [Nerburn, pp. 165–166]:
I hope you'll learn to be more careful with your words. Our children don't know the old language so well, so it is your English that is giving them the world. . . .
There was an old man who told me when I was a boy that I should look at words like beautiful stones. He said I should lift each one and look at it from all sides before I used it. Then I would respect it.
I think he gave me good advice. You people have so many words that you don't respect them the way you should. There's always another one, so you just throw them out there without thinking.
I think you need to be careful. Those words are like stones. Even if they are very beautiful, if you throw them out without thinking, they can hurt someone.
Turn, consider, and reflect on these few words and their connotations for a moment as if balancing a stone in the palm of your hand. Home, earth, and land as antonyms to the word wilderness (let your eye catch the root word wild). Speaks with broken English versus Native language speaker and English language learner. Alien and immigrant. Sinner or you who have not sinned cast the first stone.
The second story may live somewhere in our own experience. Is there anyone who has never wanted for more and owed for a leg up, a recommendation, or a success? Is there anyone whose life has not been touched by a death or a violent act that rocks one's view point? Is there anyone who has not had one day of struggle? Bob has struggled, and he couldn't seem to get ahead. He borrowed more than his share, thinking in desperation that next month's finances would work out. Yes, Bob may have made other decisions along the way, but here Bob stood, alone and without hope. The interest accumulated, piling on a massive weight of personal embarrassment, shame, and desperation paired with his bills.
It is now that the landscape changes. It is now that the story may sound a bit like The Parable of the Good Samaritan. Along came an unknown benefactor with a financial plan and a belief in a leg up, which is an alias to growing into a living stone. There were no words uttered similar to "wasteful" or "irresponsible," although there could have been sound reasons to say so. You can guess the rest—a spiritual house of belief was built in Bob, one payment or one stone at a time. Was it a risk? Sure. Was it worth it? Sure.
We are not powerless: We are living stones, which are not to be confused with immovable elephants. Amen.
John Pavlovitz. Low: An Honest Advent Devotional, St, Louis, MO: Chalice Press, 2019.
Kent Nerburn. Neither Wolf nor Dog: On Forgotten Roads with an Indian Elder, Novato, CA: New World Press, 2002.
Julie Jacot is a former educator of child development, customized training, and parenting within the metro area. Currently, Julie is a local writer we invited to contribute regularly to our blog. In her blog posts, she reflects on faith and life from her perspectives of God's perpetual nearness. She is a longtime member of White Bear Lake United Methodist Church.