Greetings from Our New Pastor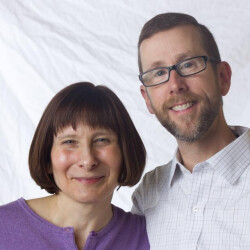 Dear Friends:
I am looking forward with great joy and deep humility to being your pastor. As I begin, I want to tell you a little about myself so we don't have to feel like strangers the first time we meet. I grew up in Georgia, and the beginnings of my call to ministry came in a United Methodist Church that I attended as a teenager. I was ordained in Kentucky and served three churches there.
Sherry and I met in seminary (she grew up in New Jersey), and we came to Minnesota in 1993 when she took a job in the theology department at the University of St. Thomas. (When she first told me she was interviewing at "St. Thomas," I was thinking of the Caribbean; boy, was I surprised!) We have lived in Minnesota for the past 24 years, where I have had the privilege of serving in two great churches: Silver Lake in Oakdale (1993-2003) and Anoka (2003-2017). We have loved living in Minnesota and enjoy winter, the North Shore, and the Boundary Waters, as well as life in the Twin Cities. We also love traveling—especially Europe—and since our families live far away, most of our vacation time is spent visiting the Northeast or the South.
When I was in seminary, I read these words of Irenaeus of Lyon, a bishop and theologian who lived in the second century: "The glory of God is a human being fully alive." These words have stayed with me as a vision for what all of us can come to be by the grace of God.
As I begin my time as your pastor—as we begin this new journey together—my prayer is that it will be a time in which we all come fully alive, to the glory of God. You have many stories to share with me about what this "coming alive" has been like in your life—your individual and family stories and the saga of your community and the ministry of White Bear Lake United Methodist Church. I have stories to share with you about what this has looked like in my life: from my first experiences of God to my journey as a pastor, a traveler, and a catalyst for change and renewal in the church.
For all of us, becoming fully alive is an inward journey and an outward one. And of course we have our ancient and common story—our family story of the Bible—that is itself the story of an inward and outward journey that still breathes and inspires today. Together we will listen. Together we will dream. Together we will work for a faith that is life-giving and beautiful and for a world in which every human being is fully alive to the glory of God.
Sherry and I are so excited to be among you and to begin meeting you. We look forward to our first Sunday on June 25 and to many "firsts" with you in the weeks ahead.
Grace and peace,

Pastor Bill Eaves