Lent: A Call to True Life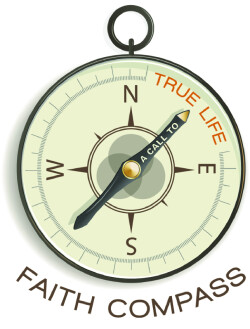 As disciples of the Lord Jesus we are called to resist the sin that separates us from the love of God and neighbor. The disciplines of Lent—repentance, fasting, prayer, reading of scripture and works of love—help us turn to and live in the harmony that God desires for all creation.
Our sermon series, Lent: A Call to True Life, will look at the circles in our life that help us best experience joy in communion with God, with our neighbor and with ourselves. As a guide for this journey, we are using a Venn diagram that I developed called the Faith Compass.
I think of True Life as being in the presence of God's love and forgiveness so that we can be God's love and forgiveness in life. The circles hold the ways we are called to be in relationship with God and each other.
A simple illustration of this concept would be a band. There is a conductor that the individual band members follow. They do this as they are called to practice and master their identity and abilities as a trombone player (my instrument of youth). All band members also follow the conductor when they come together and practice as a group or as a body of band members. Ultimately the band under the direction of the conductor plays music for the benefit of others. This benefit or ministry shared inevitably nourishes those who are a part of it as well.
Join us in worship as we follow Jesus to the Cross.
~ Pastor David