Mission 2018: Common Hope Vision Team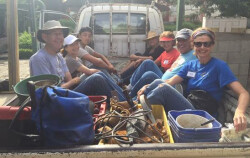 Common Hope is a St. Paul based organization that serves communities in the Antigua region of Guatemala. Its main focus is education, but affiliated families also receive services that help them reach their full potential. A rich part of the Common Hope relationship is the sponsorship program. It creates relationships and provides a feeling of support for the students who receive letters, small gifts and sometimes a visit from their sponsor.
Our church has been actively involved with Common Hope since 2001 when the first Vision Team traveled there. Since then five more teams have been sent and several individuals have traveled there to celebrate high school graduations and do medical work. There are about 15 students currently being sponsored by WBLUMC members and the Faith in Action group. The congregation also sponsors a student—16-year old Luis Guillermo Gil.
There will be a life-changing opportunity in the summer of 2018 to participate in a Vision Team experience. The trip dates will be announced soon. Joining a Vision Team allows you to experience the people, culture and beauty of Guatemala. You will participate in work alongside Common Hope staff and meet the families whose lives have been changed by the partnership with Common Hope. The trip is for eight days and the cost is $1,000 plus airfare. All expenses are covered once you arrive. The team also fundraises $500 per person and the church will work with the team on that aspect.
More information is available online at CommonHope.org. Brochures are also available at the Welcome Center. Beth and Sarah Smith traveled to Guatemala with another church in 2016 and they would enjoy telling stories of their trip.
If you're interested in this trip or have more questions, contact Marcia Faust, who is organizing this trip and has traveled to Guatemala on three teams and for a graduation of her sponsored child. Contact her at