BAKING WITH A PURPOSE
Baking with a Purpose takes place periodically to bake and sell artisan bread to raise money for our community partners.
Upcoming Baking with a Purpose weekends: May 19-21, Sept 22-24, Oct 27-29th
The March Baking with a Purpose baked 100 loaves, and raised enough money to purchase 65 set of tableware for Bridging, a local non-profit that helps families transition into new homes from homelessness.

History of our Community Bread Oven
When on sabbatical in Tuscany attending a bread school, former pastor Bryce Johnson baked bread in a one-hundred–year-old, wood-fired brick oven. In Europe during the 1800s and early 1900s, brick ovens were the centerpiece of village life. Once or twice a week, the community oven was fired, and villagers brought their homemade bread dough to the center of the village to bake. As they waited for the bread, villagers conversed with each other and debated politics. The bread was essential for building strong bodies, and the oven was vital to building a strong community.
Before then-pastor Bryce departed for this 2009 sabbatical, a church member said to him, "When you come back, we ought to build a brick oven on the church grounds." And, we did.
Today, White Bear Lake United Methodist Church has a very unique pathway to build connections in both the church and the community, making this oven of brick, mortar, and fire a centerpiece for strengthening body and soul. From this experience, other organizations have built their own ovens, creating a community of community bread ovens.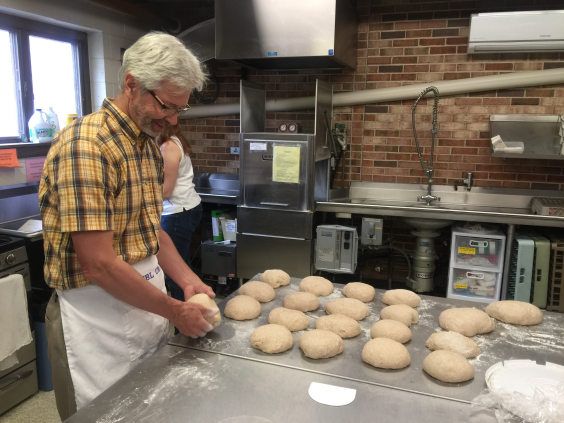 ---
GALLERIES
Bread Bake
Pizza Events
---
MEDIA
"Church Fires Up Brick Oven for Good of Community," White Bear Press, November 13, 2019.
"Filling the Bread Basket for Hurricane Relief," White Bear Press, September 20, 2017.
"Minnesota Churches Build Communities with Communal Brick Ovens," Pioneer Press, November 2015.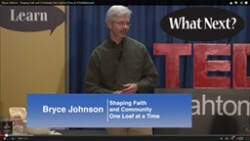 In his TEDxMahtomedi talk, former pastor Bryce Johnson explores how bread making and baking in a wood-fired oven gives us the opportunity to slow down, discover the sacred in the ordinary, and connect with community.