Bread Oven Events
BAKING WITH A PURPOSE
Once a month, you can address hunger by ordering homemade bread from the community bread oven. "Baking With a Purpose" takes place the first Saturday of the month, and proceeds go to one of our community partners.
BREAD CLASSES
We frequently offer classes in bread baking. You will learn to make several varieties of bread, bake in the brick oven, and take home at least 2 loaves.
History of our Community Bread Oven
When on sabbatical in Tuscany attending a bread school, former pastor Bryce Johnson baked bread in a one-hundred–year-old, wood-fired brick oven. In Europe during the 1800s and early 1900s, brick ovens were the centerpiece of village life. Once or twice a week, the community oven was fired, and villagers brought their homemade bread dough to the center of the village to bake. As they waited for the bread, villagers conversed with each other and debated politics. The bread was essential for building strong bodies, and the oven was vital to building a strong community.
Before then-pastor Bryce departed for this 2009 sabbatical, a church member said to him, "When you come back, we ought to build a brick oven on the church grounds." And, we did.
Today, White Bear Lake United Methodist Church has a very unique pathway to build connections in both the church and the community, making this oven of brick, mortar, and fire a centerpiece for strengthening body and soul. From this experience, other organizations have built their own ovens, creating a community of community bread ovens.
---
GALLERIES
Bread Class with Solveig Tofte
Community Bread Bake
Rest Full Work
Bread Classes
Hunger Takes no Summer Vacation
Rally Day Pizza
Outdoor Service and Breadstick Communion
---
MEDIA
"Church Fires Up Brick Oven for Good of Community," White Bear Press, November 13, 2019.
"Filling the Bread Basket for Hurricane Relief," White Bear Press, September 20, 2017.
"The Minnesota communities coming together to make (and break) bread," Southwest: The Magazine, July 2017.
"Minnesota Churches Build Communities with Communal Brick Ovens," Pioneer Press, November 2015.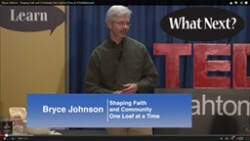 In his TEDxMahtomedi talk, former pastor Bryce Johnson explores how bread making and baking in a wood-fired oven gives us the opportunity to slow down, discover the sacred in the ordinary, and connect with community.
---
RECIPES
Download a copy of some of our favorite recipes.
CONTACT